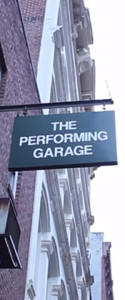 The Performing Garage has been The Wooster Group's permanent home and performance venue since the Group's beginning, and all of their work has been developed there. The Garage was bought in the early 1970s when Soho was still an empty warehouse district being reinhabited by artists. The Wooster Group owns and operates it as a shareholder in the Grand Street Artists Co-op, which was originally established as part of the Fluxus art movement in the 1960s. Before the formation of The Wooster Group, The Performance Group developed and produced work at the Garage. From 1975-1980 the two groups shared the space. Prior to The Performance Group founding The Performing Garage, 33 Wooster Street was a metal stamping/flatware factory.
This website is an online home for the work of visiting artists who are developing and presenting work as part of The Wooster Group's forum for new art and artists, The Performing Garage Presents.
---
The Performing Garage is supported by: the Lower Manhattan Development Corporation, which is funded through Community Development Block Grants from the U.S. Department of Housing and Urban Development; Booth Ferris Foundation; public funds from the New York City Department of Cultural Affairs in partnership with the City Council; the New York State Council on the Arts; and the Foundation for Contemporary Arts.
---
directions: The Performing Garage is located at 33 Wooster Street, between Broome Street and Grand Street, one block north of Canal Street and one block east of West Broadway in Soho, New York. The closest subway stations are the Canal Street stops of the A, C, E, N, Q, R, J, Z, 1, and 6 lines.
phone: 212-966-9796
email: tpgpresents@theperforminggarage.org