SAXOPHONE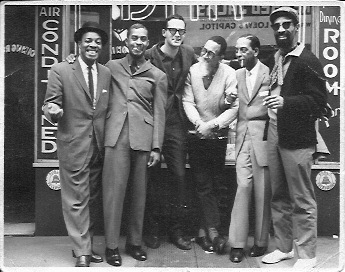 January 15 – 17 @ 7 pm
Directed by Brian Mendes
Edited by Tom King and Brian Mendes
Produced by Nicholas Elliott
$10; first-come, first-served
Performed by Janet Coleman, Alex Delinois, Michael Evans, Bob Feldman, Jim Fletcher, Tom King, Jasper McGruder, Sharon McGruder, Terrance McManus and Gary Wilmes.
"The hotel at 123 W. 44th was the Hotel Henry.
Some of its residents at the time – Billie Holiday, Pearl Bailey, Maria Riva – a young actress, daughter of Marlene Deitrich, Jo Jones, Count Basie drummer, Butterfly McQueen.
Sugar Ray Robinson frequented the place. He was working on a nightclub act, tap dancing. ( and he was good. ) there was a guy there, I think he was his agent, named Spizzy Canfield!!!
Ray would park his car out front. A hot pink Caddy Eldorado convertible, license plate – 27RR.
The former dining room is now a french restaurant, Cafe un du trois. It doesn't look much different than when I was 12 years old. We should go there for a drink. It's a good place.
Next time ask me about:
The Hotel Woodward, and Hotel Capitol. I spent much of my formative years in those places.
The night Aug. ? 1945, WW2 ended. I was seven. We were in Times Sq.
I remember it like it was last night.
I often think about this: 60+ years later, Hell's Kitchen & Times Sq. This is where I've spent most of my life. An area maybe one sq. mile.
Sometimes I walk these streets with those memories, and I feel like a ghost.
But that's what I love about New York. It's a city where you cannot cling to the past. It's constantly being bulldozed, torn down. Nothing lasts. Perfect town for a Buddhist.
Have a great trip. See you soon …….. Bob"
Saxophone is based on close to 50 hours of interviews with saxophonist Bob Feldman.
It traces the path of this Bronx-born New Yorker who played with Mingus, worked with Salinger, found and lost love, peace and music many times over—all to become a saxophone player.