TARZANA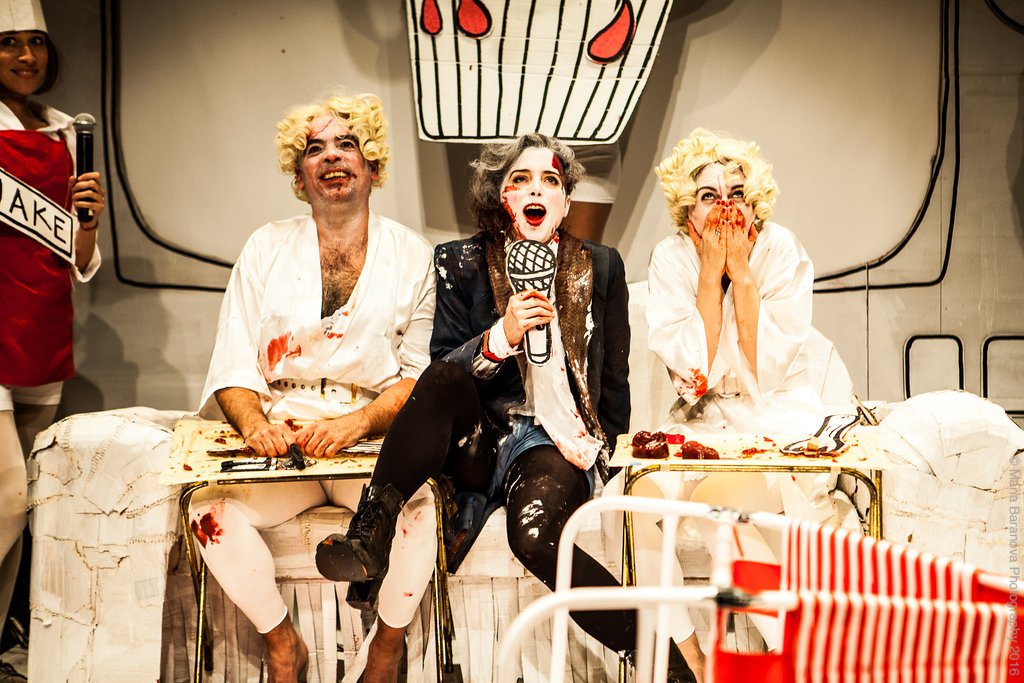 February 11–14, 2016 @ 8 pm (Thur-Sat) & 7 pm (Sun)
Legendary, award-winning experimental theater company Radiohole presents Tarzana at The Performing Garage.
A comic book comes alive on the stage: Tarzana is a collaboration with award-winning playwright and screenwriter Jason Grote (Mad Men) who was commissioned by Radiohole to write text for the work. Influenced by film-makers such as Alejandro Jodorowsky and David Lynch and the New York Punk scene of the 1970s and early 80's, Tarzana unfolds in a hand-drawn landscape following the misadventures of a guilt-ridden Superman, Two Non Blondes and architect of the Terror, Robespierre. What comes to pass is surreal mayhem in true Radiohole tradition: an uproarious, bacchanalian, beautiful mess. Be warned: there will be karaoke. And blood.

Tickets: $15 for discount "splash zone" seats (you may get splattered with water-soluble goo) or $25 for the main house.
Running time: 1 hour 10 minutes.
Photo by Maria Baranova.
TARZANA is a commission of Mass Live Arts. Tarzana is supported, in part, by the New York State Council on the Arts with the support of Governor Andrew Cuomo, and the New York State Legislature and by New York City's Department of Cultural Affairs. Tarzana is made possible, in part, by a 2014 Lower Manhattan Cultural Council Process Space residency.