events: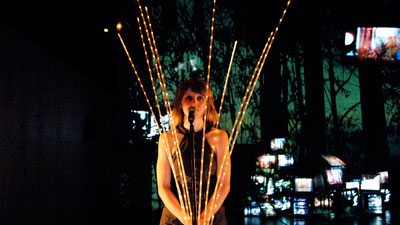 Findlay//Sandsmark
«FRACTURED BONES/LET'S GET LOST»
September 5-9, 2012 @ 8pm
«FRACTURED BONES/LET'S GET LOST» draws on 'disappearance' impulses to create a performance that brushes across theater, dance, live music, and video installation to make a slippery and nebulous take on futurism. Iver Findlay//Marit Sandsmark (U.S./Norway) conspire with performer Eric Dyer (Radiohole), performer/video game modder Victor E. Morales, and set designer Ruud van den Akker.
Working from a parable about a 'disappearer,' the piece explores the idea of object permanence and performance by way of hard boiled motifs to create a dialectic between the present and the future. The performance is set across a landscape of projections and trashed video monitors revealing a discourse on the natural and synthetic.
more info »
watch: