Modesto Flako Jimenez is a Dominican-born, Bushwick-raised theater director, writer, poet, actor, producer, and educator. ATI & HOLA Award Winner, NY Times and Wall Street Journal profiled, "Flako" is best known for original productions and three signature festivals – Ghetto Hors D'Oeuvres, One Catches Light, and Oye! Avant Garde Night! – produced with his company Brooklyn Gypsies Collective. Flako has appeared on TEDxBushwick, Comedy Central'sThe Daily Show with Jon Stewart,  Favorite: Early Shaker Spirituals (Wooster Group), Last Night At The Palladium (Bushwick Starr/3LD), Yoleros (Bushwick Starr/IATI theater), Conversations Pt.1: How To Make It Black In America (JACK). Take Me Home (3LD/ Incubator Arts Project).  Upcoming: Oye For My Dear Brooklyn (The Performing Garage), Furry by William Burke (Bushwick Starr), Samara by Richard Maxwell (SoHo Rep; dir. Sarah Benson). Modesto received the 2016 Princess Grace Award Honorarium in Theater.
Find out more about Modesto Flako Jimenez and Brooklyn Gypsies.
events: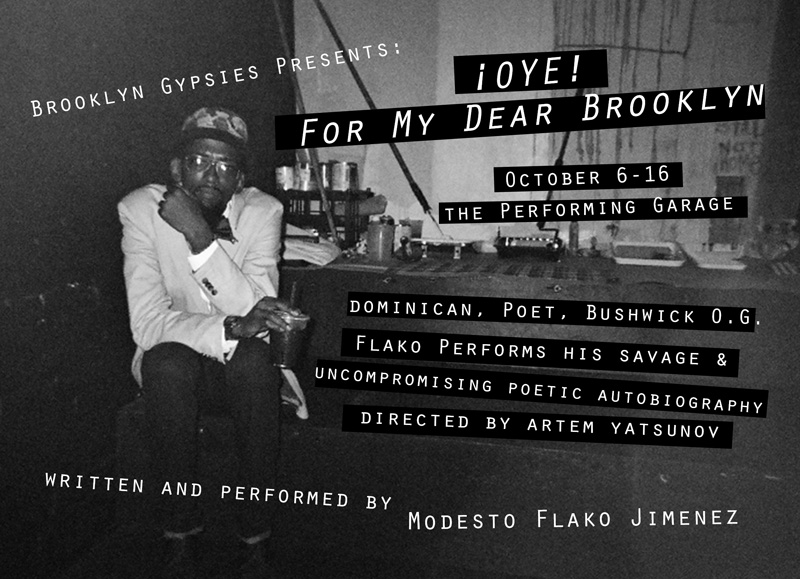 Modesto Flako Jimenez
OYE FOR MY DEAR BROOKLYN
Oct 6 – 16, 2016
Tue – Sat @ 8 pm / Sun @ 3 pm

Writer and actor Modesto Flako Jimenez performs his autobiographical and uncompromising collection of poetry.
more info »