THE SUNDANCE KID IS BEAUTIFUL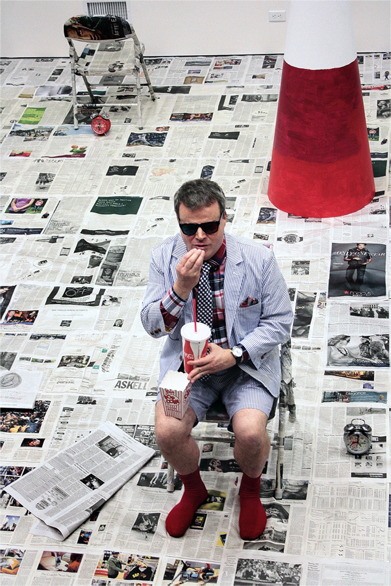 August 29 @ 7:30 pm • Admission is free with suggested donation
Seating is first-come, first-served • Door opens @ 7:15 pm

Christopher Knowles's diverse practice, which includes writing, painting, sculpture, and performance, exhibits a fascination with the aural and visual elements of language. Born in New York City in 1959, Knowles first became widely known in the theatrical community as an early collaborator of Robert Wilson. While still a young teenager, Knowles provided the libretto for Robert Wilson and Philip Glass's 1976 genre-changing opera Einstein on the Beach.
First exhibited as a solo artist in 1974, Knowles has continued to cultivate a prolific practice that explores themes surrounding communication and sign systems. His two and three-dimensional works are exhibited widely and held in the permanent collections of the Museum of Modern Art, NY, the Museum Boymans-van Beuningen, Rotterdam, and numerous other international institutions and private collections.
The Sundance Kid is Beautiful with Christopher Knowles features the artist performing a selection of new and rarely-shown works, including The Sundance Kid is Beautiful and texts from Einstein on the Beach in a multimedia environment that incorporates poetry, dance, and sculpture.
This very special event is made possible by the support of American Friends of the Louvre and Gavin Brown's Enterprise. It is staged by Noah Khoshbin and produced by Andrew Gilchrist, with dramaturgy by Lauren DiGiulio, design by Eugene Tsai, lighting design by John Torres, sound design by Bryce Kretschmann, costume design by Kevin Santos and set construction by Stephen Crawford.
The Sundance Kid is Beautiful with Christopher Knowles was developed at The Watermill Center and commissioned by the Byrd Hoffman Water Mill Foundation, Gavin Brown's enterprise, New York, in association with The Martin E. Segal Theatre Center at The Graduate Center, CUNY, Change Performing Arts and Dissident Industries, and was made possible in part from a generous grant from WorldStage, with further support from the American Friends of the Louvre.
Photo by Tom Kochie